Welcome to the Pocket BMX Games 2013.
Hi everyone, we are holding 3 Competitions over the next couple of weeks for a chance to win copies of Pocket BMX and Gift Cards.
There is a competition to suit everyone. If you don't own a copy, enter Comp 1 for your chance to score a free copy. Then you can enter Comp 2 and if you have a suitable device then enter Comp 3 as well.
The details are below:
Competition 1: Facebook for Free copies.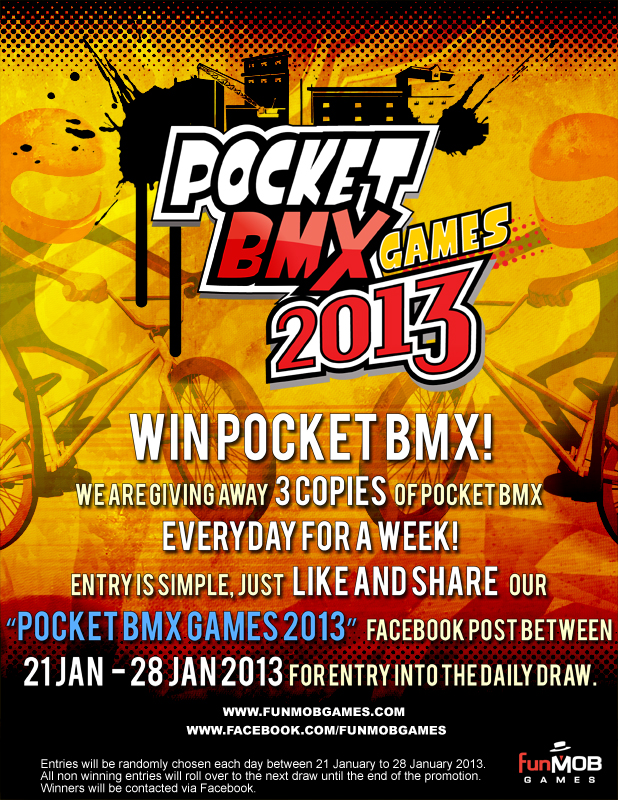 *Requires Facebook Account
*Share our Pocket BMX Games 2013 Facebook post between the dates 21th -28th Jan to enter.
*Winners will be contacted through Facebook.
Competition 2: High Score and Review for 2x $15 Game Vouchers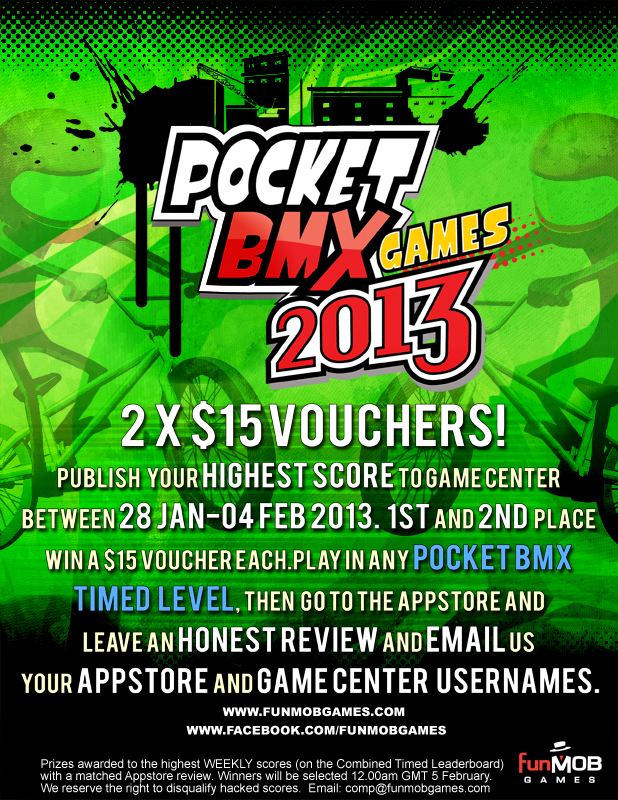 Steps to enter Competition #2 :
 Play any level in Timed mode, get the highest score you can*.
 Leave an Honest review on iTunes.
 Email us at : comp@funmobgames.com  with your Game Center Name and your iTunes review name.
* Must be logged into Game Center for your scores to automatically submit.
* We will choose the 2 top scores using the "Combined Timed Leaderboard" + "Weekly Scores"  at 12:00am on the 5th on Feb, that have a matched iTunes review.
* Enter as many times as you like.
* Full version only
Competition 3: The Main Event. 1st place $25, 2nd place $15, 3rd place $10.  Developers choice award $30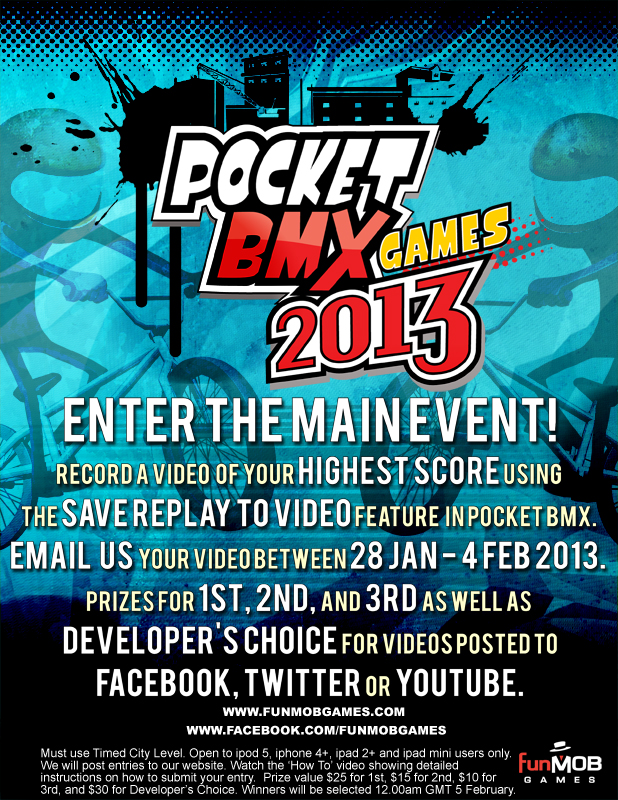 For video instructions on how to enter competition #3:  http://www.youtube.com/watch?v=ymefEjDSCYA
Steps to enter competition #3:
Play the "City" level in "Timed" mode
Get the highest score you can***
Record the replay using the new "Record Replay" Feature**
Email the replay to: comp@funmobgames.com using the built-in feature.
To enter "Developers Choice" Send the replay to Facebook, Twitter and/or Youtube, then let us know when you email the replay.  We will choose based on use of tricks/level, not based on score.
*The top 3 scores  from entries received between the 28th of Jan – 4th Feb will win.  We will Draw them at 12:00am on the 5th of Feb.
*We will select the Developers Choice award from runs that have been posted to Facebook, Twitter or YouTube between the 28th of Jan – 4th Feb to win.  We will Draw at 12:00am on the 5th of Feb.
* Enter as many times as you like.
**Replay Recording feature requires either iPod 5, iPhone 4+, iPad 2 + or iPad mini device and iOS 6.
*** We reserve the right to disqualify any submissions we deem are exploiting the game, using loopholes, unfair tactics, poor gamesmanship, or goes against the spirit of the competition.
Tips for Recording replay:
Use the latest iOS updates available
Don't have any iOS music playing.
Reboot the device to clear memory before starting Pocket Bmx
Mobile devices are limited in memory/cpu power so try to minimize amount of apps running.

 If you own multiple ios devices, use the most powerful one they have to do the recording.